OUR YOGA TEACHERS
Meet our incredible team of yoga teachers from all over the world.
ERYT 500 HATHA YOGA
Arya Murty
Murtijee, as he is fondly called, was born in Brahmin Family in Southern India, and has been practicing yoga for over last 28 years besides being a Registered Yoga Teacher (E-RYT 500) with Yoga Alliance. Arya started his yogic practices at the age of 15. He improved and deepened his yogic practices under the guidance of Sivananda Ashram, and also by senior teachers of a very famous and traditional Bihar School of Yoga who are well known masters of real Hatha Yoga. He also lived in Swami Dayananda Ashram as a residential student of Vedanta for 3 years. Under the guidance of Acharya Sakshatkritananda ji, he studied the Upanishads & Bhagavad-Gita.
ERYT 200 Hatha & Ashtanga Vinyasa
Vamsi Krishna Gadwala
Born in 1985 in South India, Vamsi Krishna Gadwala started his yoga asana practices at the age of eight under the guidance of his mother and father who are Yoga and Ayurveda practitioners. Vamsi comes from a very traditional south Indian family, but as a young generation in India with the scientific academic background he is rather a modern seeker, travelling all over the world and staying open for other cultures. Vamsi took on to the path of meditation and self-discovery in 2002. In 2014 he moved to Himalayas to learn and meditate on the paths of Yoga and also became certified Yoga teacher from Yoga Alliance, sharpening his knowledge of Yoga into sharing as a teacher. He is experienced in teaching Hatha, Ashtanga Vinyasa, Vinyasa flow, Yin styles along with Prenatal, Pranayamas and Meditations. Vamsi has a long standing association with Trimurti Yoga in training hundreds of Yoga aspirants across the globe.
RYT-200, Anatomy & Vinyasa
Vinod Kumar
After having majored in anatomy from Manipal university in India Vinod has been taught medical and paramedical students for 10 years. Chasing his passion for yoga he completed his RYT 200 in the year 2019 and since then has been teaching human anatomy to yoga students besides asana practice. He has successfully conducted workshops on yoga and mindfulness in yoga studios, corporates, hotels and hospitals. He is a strong believer of "train your body in order to train your mind". His teaching integrates the knowledge of medical anatomy to teach pranayama, mindfulness, flexibility, strength alongwith guided meditation and relaxation practices.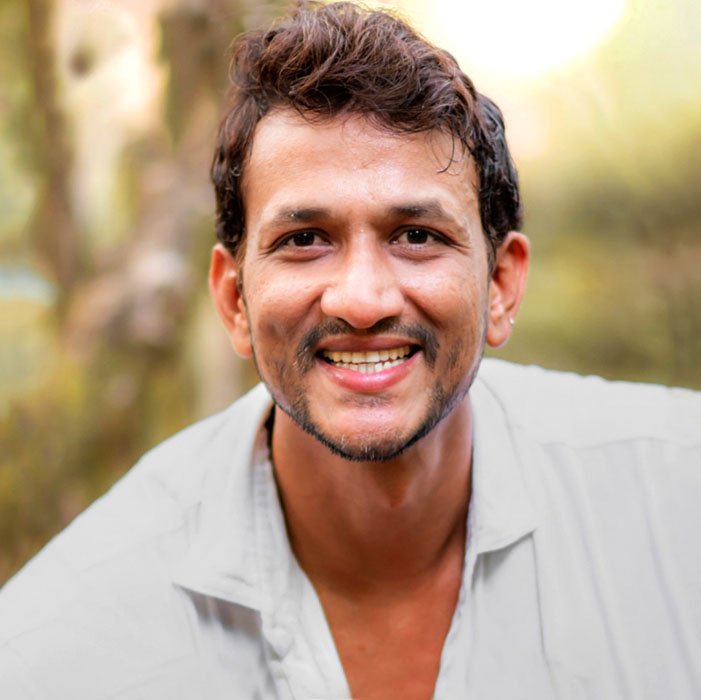 ERYT 500 VINYASA
Susheel Jain
Susheel is an E-RYT-500 International Teacher Trainer and he has been working with Trimurti Yoga since 2017. He started his yoga journey with Ramakrishna Mission in Hyderabad in 2004, India and later got trained in Sivananda Lineage in 2008, Ashtanga Vinyasa in 2015. He has also studied Aerial and Yin Yoga. Before becoming a yoga teacher he studied MBA and was having a career in corporate world as financial analyst. His management skills also reflect in this yoga trainings. He started teaching yoga part time in 2008 and in 2016 he became a full time yoga teacher Training Yoga Teachers from around the world in Goa, Dharamshala, China and Bali. Susheel has taught yoga at various studios, corporate companies, hotels and hospitals. "Yoga is for everybody" is the motive behind his teachings and he equips the new yoga teachers with the skills to impart the knowledge of yoga to all levels of students with compassion and ease. Having the knowledge of different styles of yoga he brings in a variety of teachings in his classes and teacher trainings. Having born and raised in spiritual environment, his teachings go beyond the realms of physical body and he also emphasises on breathing practices and pranayama in his classes.
RYT 200 Vinyasa
Sidhanth Aksar
Born in Telangana southern India he completed his masters in marketing management. Sidhanth started with working in corporate for over 7 years while continuing his yoga practice. His calling for teaching came in the year 2020 when he completed his yoga teacher training program in Hyderabad. Since then he started teaching yoga on weekends in companies & then finally gave up his corporate job to pursue life as a full time yoga teacher since 2021. Sidhanth is passional about teaching vinyasa flow yoga along with Hatha yoga.
At the age of 16 Ania attended her first yoga class in hopes it would help with her anxiety and she immediately fell in love with not only the mental benefits, but the spiritual and physical ones as well. In 2017 after graduating University with a degree in public health, and teaching anatomy focused Pilates classes for 5 years, Ania traveled to India to completely her 200 hour yoga teacher training and later her 300 hour training as well. Since then, Ania has traveled the world teaching classes and workshops, hosting yoga retreats, and training yoga teachers. Her passion is guiding heart-led vinyasa and meditation classes that deepen every students relationship with themselves and teaching anatomy in a way that makes new teachers feel confident and knowledgeable in every aspect